Two Job vacancies: Finance Manager and Member Services Officer
---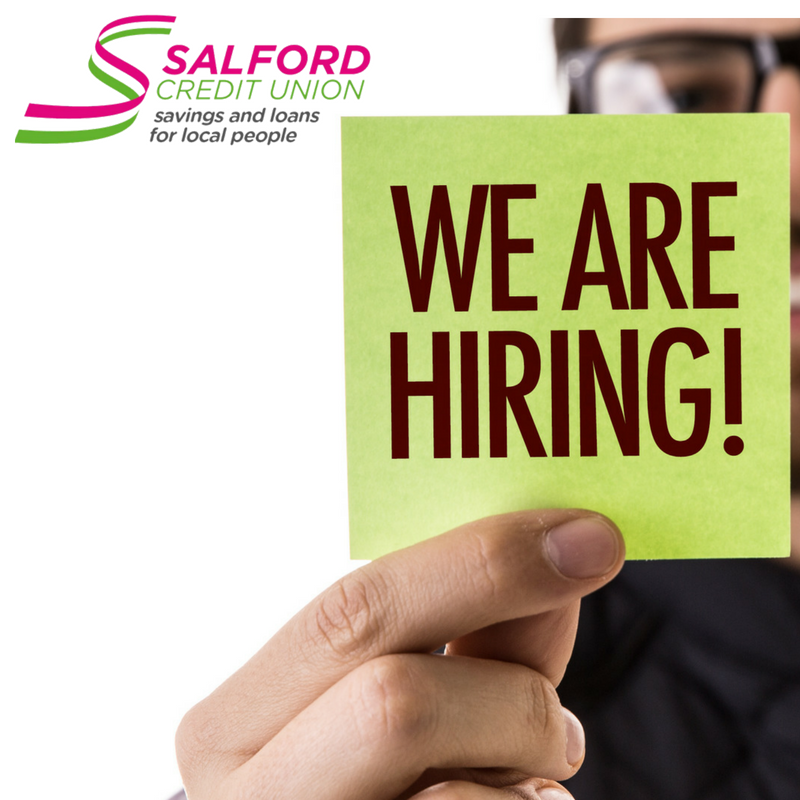 Finance Manager and Member Services Officer roles now being recruited!
Salford Credit Union is helping local people get better off- we help people build savings and offer affordable loans. We're a cooperative so money stays local and benefits our community- not distant shareholders. This is an exciting time for the Credit Union- we have made major improvements and are looking to grow and improve our services.
We are looking for two positive, self-motivated candidates who like a challenge and want to make a real difference to people's lives. We're a small team and always busy so you need to enjoy being flexible to get the job done.
Finance Manager- £18,096 (for 24 hours per week- equivalent to £28,276 full time): Role includes strategic planning and project work as well as budget management and accounting. If you have strong financial skills and experience, good with Excel and other IT, a positive and flexible attitude and can share our ethical values then this could be the job for you. Working hours: generally 6 hours/day over 4 days between 09.00 and 16.00 (subject to negotiation)
Member Services Officer- £15,600 for 30 hours average per week: Role provides support across a wide range of key credit union activities- including promoting our services, processing memberships, loan applications, deposits and withdrawals and providing reception services. Working hours: generally 4 X 7 hour days plus alternate Thursday mornings(subject to negotiation)
Because of the nature of the roles the successful candidates will be required to undertake a credit check and become members of Salford Credit Union.
Closing Date for both posts: 12 midnight Sunday 28th October 2018
Finance Manager Interviews scheduled for: Thursday 1st November 2018. For more information see the Job Description: SCU Finance Manager- JD
Please use this Salford Credit Union application form to apply- CVs will not be considered. SCU Finance Manager- Application
Member Services Officer Interviews scheduled for: Friday 2nd November 2018. For more information see the Job Description: SCU Member Services Officer- JD
Please use this Salford Credit Union application form to apply- CVs will not be considered. SCU Member Services Officer- Application
Send your completed application forms to Sheila.murtagh@salfordcreditunion.com
or by post to: Salford Credit Union, Brotherton House, 1 Loganberry Avenue Salford M6 5UX
For further info contact: Sheila Murtagh on 0161 6865886